Bhutan Cancer Society
Posted On: September 25th, 2018
Bhutan Cancer Society, through the 12-month CSO grant project is testing a means to institute holistic palliative care services in the country, for terminally ill patients and their care givers. The program provides peer support through pain management, physical, nutritional, psychosocial & spiritual interventions.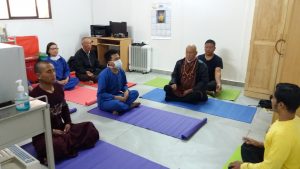 Not even half way through, the project has reached out to 156 patients for nutritional, psychosocial and yoga services. 35 terminal patients have received 92 home-visit services, and the therapy room in the Jigme Dorji Wangchuck National Referral Hospital (JDWNRH) has been refurbished and equipped to provide better services. Several information materials on palliative care and side-effect management has been developed and printed. The program, being implemented in consultation with the JDWNRH and the Faculty of Nursing & Public Health, is also developing a module to integrate palliative care services in the future training of health care providers in the country. The module for the palliative care is expected to go a long way in making palliative care a part of the country's health care delivery.
The project also provides support to the underprivileged patients traveling to India for treatment.